Saskatoon Alliance PSL Tryout Information
---
---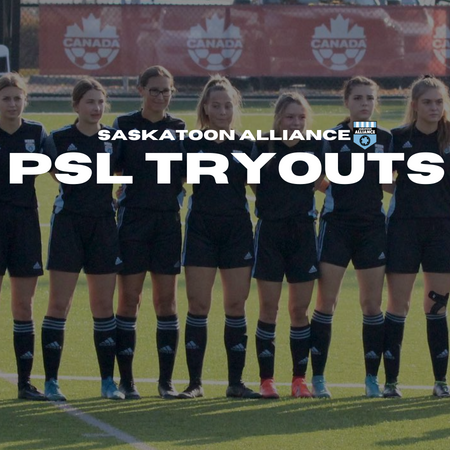 ---
Hello soccer families,
Saskatoon Youth Soccer Inc. (SYSI) is pleased to announce that registration has opened for Under 15 (players born 2008 / 2009) & Under 17 (players born 2006 / 2007) Saskatoon Alliance Provincial Soccer League (PSL) tryouts. The PSL league provides players from across Saskatoon and surrounding area a tremendous opportunity to challenge the top players from around the province for the title of Best in Saskatchewan. SYSI is proud to offer meaningful league opportunities to players, which fosters a safe and positive competitive environment, creating a sense of belonging focused on fun, respect, inclusion, and fair and ethical participation.

Outdoor 2023 Saskatoon Alliance Tryout & Team Selection:
Eligibility: All players interested in trying out for the Under-15 and Under-17 PSL teams need to be age eligible unless recommended to play up in age by their Technical Director. Players are not required to be registered and participating in the current SYSI indoor season, nor are they required to be participating in the current Alliance Academy program.
Deadline:
Register by
Fri Feb 10, 1:00 PM
with a fee of
$60 to SYSI
.
Early bird pricing is available until Fri Feb 3, 1:00 PM for a fee of $45
.
Only those registered by Fri Feb 10, with payment will be accepted into the tryout.
Players who are sick or injured and can't attend tryouts must contact the office,
info@saskatoonyouthsoccer.ca
, prior to the registration deadline to arrange an alternate time to be evaluated. All other exceptions will be reviewed on a case-by-case basis.
Click here to register for the tryout.
The Saskatoon Alliance PSL Tryouts will take place on Sat Feb 11 & Sun Feb 12. All registrants shall be prepared to tryout as early as 7:30 AM and as late as 10:00 AM, with the final tryout wrapping up at 11:15 AM. A schedule of tryout times per age and gender group will be determined based on registrations and will be finalized/announced on Thurs Feb 9 to all registrants.
Selection: Players will be notified by Tues Feb 14.

Outdoor 2023 Saskatoon Alliance PSL Fees & Season Details:
Saskatoon Alliance Offer Acceptance:
Selected players will be notified
by Tues Feb 15
and will need to
submit a $100 non-refundable deposit to SYSI by Fri Feb 17
to secure their spot on the team. Players unable to commit financially will need to complete and submit a KidSport &
SYSI funding form
and provide supporting documents within 48 hours of the offer for the office to determine financial eligibility.
PSL Player Fees: Players must submit the remainder of their fees, minus the deposit, prior to the first training session for their age group or they will be unable to train and/or play until payment is received. There will be zero refunds after the team roster has been announced on Mon Feb 20 other than for health or injury reasons requiring a doctor's note. Player fees will be determined by number of games and will be communicated at a late date. Fees can be expected to range from $640 to $710 per player plus a $145 refundable jersey deposit & $40 training kit (if you do not have one from a previous season)
Additional Fees: Any additional fees, i.e. team swag, travel, additional training, etc., over and above the player registration fee may be required and will be coordinated by the team.
Training: The set established player fees will cover three hours of weekly training sessions for 14 weeks commencing Mon Apr 17 until Mid-July. Dates for training will be determined by coach and field availability.
Games: The schedule will be released by SSA in early May. The number of province-wide entries will determine the number of regular season games which could range from eight (8) to twelve (12) games. The player fee is estimated to cover weekly games starting Mid-May until Mid-July. Teams should be prepared to play on weekdays and all weekends. PSL finals will take place Fri Jul 28 - Sun Jul 30 in Saskatoon, SK. (Tentatively).
PSL Coaches: SYSI is pleased to announce the 2023 Saskatoon Alliance PSL Head Coaches:
U15B - Tim Mangan
U15G - Adele Bandet
U17B - Dan Weber
U17G - Mark Lord
Please note, the Saskatoon Alliance aims to have two teams in all age groups and genders, but this is subject to player numbers, coach availability, and resources and will be determined after the tryout weekend.


Club Nationals October 4 - 9, 2023: Under-15 Toyota National Championships is slated to take place in Waterloo Region, ON and Under-17 Toyota National Championships is slated to take place in Moncton, NB